About Us
The mission of Shireman Veterinary Services is to improve the livestock industry through innovative treatments and personalized care.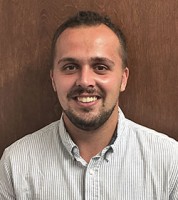 Dr. Clint Shireman, Owner, DVM
Dr. Clint Shireman hails from Wanatah, Indiana. Where he grew up showing cattle, sheep, and swine competitively. His family has raised beef cattle for more than 30 years.

He graduated from Purdue University in 2011 with a bachelor's degree in Animal Sciences. He was an active member of Alpha Gamma Rho Fraternity and the Purdue University Livestock Judging Team.

He was accepted into the Purdue College of Veterinary Medicine program upon graduation. Where he focused mainly in food animal medicine with the desire to work in reproduction and surgery.

When not in class, Dr. Shireman spent time working for Dr. Larry Horstman, bovine reproduction expert and former theriogenologist at Purdue University. Under Dr. Horstman's guidance, Dr. Shireman learned the art of embryo transfer. He also assisted Dr. Horstman with the drug testing and harvesting of Indiana State Fair champion livestock.

During veterinary school, Dr. Shireman sought various opportunities to expand his knowledge of animal health. Interning under some of the best in the industry such as: Attica Veterinary Services, Attica, New York, where he honing his skills in palpation and dairy medicine, Dr. Sam Edwards of Harrogate Genetics in Harrogate, Tennessee, where he further his studies in embryo transfer, and Dr. Gary Warner, of Elgin Veterinary Hospital in Elgin, Texas, studying reproduction and surgery. Dr. Shireman was chosen as one of six veterinary medical students to be on call at the 2014 Indiana State Fair for a new veterinary protocol which greatly enhanced care of exhibition animals.

Shortly after graduation, Dr. Shireman was chosen for an internship position offered by Elgin Veterinary Hospital upon graduation. Dr. Shireman began working and studying under the world renowned Dr. Warner, perfecting techniques and practices taught to very few veterinary practitioners. At Elgin Veterinary Hospital, Dr. Shireman worked with rodeo stock, show cattle, and club calf bulls from throughout the United States. During the length of his internship, Dr. Shireman developed his skills in bovine surgery, hoof and joint health, reproduction, and production medicine in all food animal species. Dr. Warner's guidance and mindset of innovative treatment had a huge impact on Dr. Shireman. He hopes to bring this mindset to the Midwest.

While in Texas, he also spend time working under Dr. Mike Mimms of Donors Unlimited in Hereford, Texas, widely regarded as one of the country's leading embryo transfer veterinarians.

Dr. Shireman is excited to be back in the Midwest and to share his love of the livestock industry with his clients. His main areas of focus include: large animal care, reproduction, orthopedics, and animal surgery.
Business Hours
Mon-Friday: 8:00 am to 5:00 pm
Saturday: Closed
Sunday: Closed
Shireman Veterinary Services provides ambulatory and consultation services, as well as, offers on site facilities available for specialized hands-on care. Serving northwestern Indiana and surrounding areas.